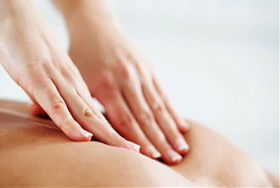 What would I expect during an appointment?
I am passionate about making your experience a pleasant one with a friendly, professional welcome to put you at ease to discuss how i can help you. A medical timeline is taken including current medication also completion of a body outline as to where your concern areas are, a brief explanation of how the treatment works.
Appointment should last about one hour and can be performed through loose light clothing (denim jeans are best avoided). The Bowen move is what defines the technique, skin slack, pressure, rolling type move. I use my thumbs and fingers to make a series of precise moves over the muscle to create a disturbance as to which the brain will probably need to take action and investigate. The breaks are important part of the Bowen process during which i leave the room 2-5 minutes as to give the body time to re-balance.
If your water intake is poor it is recommended to drink plenty of water to hydrate your body's fluid balance also helps movement around the body, water will be welcomed greatly during a treatment to assist in keeping it mobile, loose and flexible. Your first treatment is an introduction into Bowen with future treatments allow more procedures to suit individual needs.
A treatment last an hour, sometimes a little longer for the first treatment due to obtaining client consultation/medical timeline. After the treatment i will go through after care advise sheet for you to take home and feel free to contact myself with regard to any changes you experience you are very welcome to do so.
It is important to remember that the Bowen Technique compliments medical treatment and does not replace it. It is always recommended to seek medical advise from your GP.